Chumming for Bluefish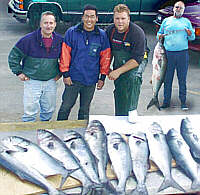 Great catch of big blues 10 to 16 pounds
" Fast Paced Bluefishing at it's Best "

Our experienced mates will prepare the chum & individual baits on our way out to the fishing grounds. Fresh & Frozen whole bunker(menhaden) are freshly ground up into buckets after the prime back pieces are removed for bait chunks. Once we arrive, we will drop anchor when the captain is marking fish on the fish finder. The chum is then ladled out on each side of the boat. Tie on a bluefish hook, 3/0 or 4/0 with a 6 inch piece of hard wire and bury the hook in a chunk of bait. Let the bait drift into the chum slick until a bluefish or bonito grabs it. When the line starts to tighten up, set the hook by pulling back with the rod tip up and begin fighting your fish. Our mates will help you boat your fish with a long poled gaff.

We offer a fish cleaning service at the end of the day on the way back home.
Yellowfin Tuna & Albacore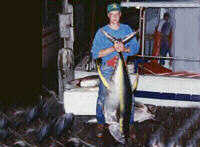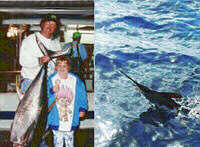 " Hardcore Offshore Fishing "
Make your Reservations Now!!!

The climax of the season starts after labor day when the Miss Belmar Princess gears up for our famous overnight tuna trips. If you have never fished for tuna before, or if you love it like we do you cannot miss out on this years schedule. Our captain will set course for the deep water canyons, from 400 to 900 feet deep, 70 to 100 miles from shore. The fast Miss Belmar Princess gets to the grounds in 4 1/2 hours, while you lounge around our restaurant, take a nap in your own bunk, or take in the evening sunset on our sun deck. Our mates will be busy preparing for an exciting night of tuna fishing. Rods and reels set up with 80 lb test line and 7/0 to 9/0 hooks, chunks of mackerel & whole butterfish for baits, ground up mackerel and cut-up butterfish for chumming.

Once we set up at around 10 pm, the mates will start catching live squid attracted to the boat from our lights. Once the tuna find our chum slick the action begins, with 50 to 100 pound fish coming over the rails and into the fish hold. It's a breath taking experience battling these large, fast and strong fish. Sometimes a mako, tiger or blue shark will be hooked, or even a large swordfish or giant big-eye tuna. At the canyons, anything can happen. The fishing continues right into mid morning, where you can definitely settle into your bunk for a well deserved nap on the way back to Belmar. At the dock, many people will be waiting to see our mates empty our fish hold and distribute the fish to our customers. Pound for pound our tuna fishing trip is a bargain when you go home with the freshest tuna steaks in the world.


Don't forget dramamine or a wrist band to prevent sea sickness so you can enjoy your trip